Adya – Fresh Indian Flavors is chef-owned  by the talented Shachi and specializes in Bombay-style street food. One of my favorite pairings in the Packing House is her goat cheese naan and Far Out IPA from Bootleggers. With $4 beers from 4-8pm, happy hour here is a must! A four-time Firkfest supporter, this year chef Shachi going crazy tropical with pineapple-glazed chicken vindaloo and watermellon chaat, which vaguely translates to tropical spiced kebabs and watermelon nachos. Feast your eyes:
The Iron Press is also a four-time Firkfest supporter, and it's no surprise by their huge lineup of revolving craft beers on tap. With two locations in OC (Costa Mesa at SoCo and in the Packinghouse), they pair beer with waffles, tots, and other fun fare. Their Tuesday tap-takeovers are always a crazy fun time, so check them out! This year they're going tropical with Tiki Nachos, complete with pulled pork, bbq, and asian slaw. (smaller versions available at fest)
Like all hidden Tiki gems, HATCH is sort of hard to find, but once you're there, you want to order ALL THE THINGS. Specializing in tropical bites, Tiki cocktails and craft beer, it's no wonder we sought them out to provide grub for a bunch of tiki beer heads! HATCH is bringing their specialty, the Rum Braised Pork Sliders. Tasting somewhat like okonomiyaki in a bun, you'll want to toss a couple of these 'down the hatch', so to speak.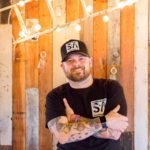 Salt & Ash is executive chef Cody Stort's home in Placentia. You may recognize the gruff pork worshiper from the Fullerton brunch scene, but I know him as a crazed beer dinner mastermind. I happened to mention the words "spam musubi" to him and let him run wild. He hit me back with Cajun-Rubbed Pork Belly Musubi with Thai Glazed Salad. Seriously. Beer fest food done right.
Food is extra but is priced similarly to their respective businesses. Keep in mind a food purchase supports the OC Brewer's Guild, which helps make beer better in OC! None of this suits your fancy? Empty your glass and take a stroll through the Packinghouse. Just don't carry beer outside of the fest, and you'll be great!
Only a few Firkfest tickets are left! Grab yours quick!